Course Leader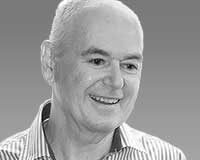 Ron is an experienced trainer and public speaker known for his energetic, humorous and inspirational presentations filled with personal stories and anecdotes. He is an original and innovative thinker, who combines intuition and logic and can simplify the most complicated concept. As well as being an expert trainer he has also held senior level sales and marketing positions in global organisations.
His practical sales experience has covered twenty years in IT and Telecommunications including, Audio Visual Solutions, Telephone Systems, Voicemail, and Video Conferencing. This experience allows Ron to adapt to the different situations and requirements of our in-company clients as well as being able to relate the material on our open programmes to specific situations relevant to our delegates.
In 1996 Ron joined the Chartered Institute of marketing and for many years has delivered courses for this recognised national supplier of training and development.
As the original founder of First Touch Training Ron remains a key player in the organisation with his consistent delivery of enjoyable and highly effective workshops. He has trained hundreds of people nationwide and maintains contact with many of his delegates.