Managing Director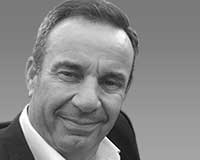 Nigel is a business consultant and trainer with an excellent track record in developing people and profitable business. He began his working life as a Field Sales Representative in advertising and publishing and progressed to three Sales & Marketing Director roles in print, IT and waste management. He was responsible for all the Vendor partner programmes at a major IT reseller and fully understands selling through complex UK and European multi-level channels.
With considerable experience in a number of industries and a desire to put these skills to the best use he formed his own consultancy in 1996 and now leads the growing team at First Touch as owner and Managing Director.
His workshops are totally interactive and he is known for his skills in developing business through effective "activity engines" that drive growth on the back of the highest service levels. He has also developed several really effective coaching programmes including Aspiring Leaders which has seen a number of people rise through the ranks to become successful senior leaders.
He enjoys all sports, was an active cricketer and is a long time Chelsea fan